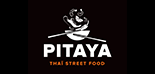 PITAYA
Open today
From 10:00 AM to 8:00 PM

A tidy setting, authentic and creative cuisine, fresh and healthy products: this is PITAYA's® recipe for an incredible trip to Thailand during your lunch break.
Nathalie Nguyen, coming from a long line of Asian street cooks, opened the first Asian food truck in France after her remarkable stint on the program MasterChef. With this success, Nathalie surrounded herself with a team of professionals to take the food truck concept to a permanent setting. Today, she manages every aspect of cooking as well as the artistic vision of the brand. After falling in love with Thailand, M. K. GUCLU decided to found the PITAYA® concept in 2010 and then to join forces with Nathalie in her quest to bring street food to the masses, reproducing the richness of Bangkok street culture in every restaurant.
Today, PITAYA® is growing and developing as franchises all over France and abroad. Winning the "People's Choice Franchise 2016" award, the adventure is taking off and some twenty restaurants will be opening in 2017.

With the growing popularity of on-the-go eating and the acceleration of city life, PITAYA® has stuck to the standards of fast food while rooting itself in traditional Asian street food: optimized service, takeaway and delivery service, facilitating an "express" lunch break for its customers.
Eating well has become a modern necessity, PITAYA® has done everything to emphasize the freshness and quality of its products in order to provide balanced meals adapted to every taste